pgAdmin is a popular open source administration and management tool for PostgreSQL databases. It simplifies the creation, maintenance, and use of database objects. PgAdmin includes a connection wizard, built-in SQL editor to import SQL scripts, and a mechanism to auto-generate SQL scripts if you need to run them on the database command line shell. You can run PgAdmin through the web interface, or as a downloadable application that is locally installed. Because YugabyteDB is PostgreSQL-compatible, you can also use pgAdmin to work with YugabyteDB.
Before you begin
To use pgAdmin with YugabyteDB, you need to have YugabyteDB up and running, the required Java Runtime Environment, and the required PostgreSQL JDBC driver.
YugabyteDB
Your YugabyteDB cluster should be up and running. Refer to YugabyteDB prerequisites.
PostgreSQL JDBC driver
To connect pgAdmin to a YugabyteDB cluster, you need the PostgreSQL JDBC driver installed. To download the current version that supports Java 8 or later, go to the PostgreSQL JDBC Driver download page.
Install pgAdmin
To install pgAdmin, go to the Download page and select the version of pgAdmin 4 for your operating system.
Configure pgAdmin
Add a pgAdmin server to connect to a cluster as follows:
Launch the pgAdmin 4 application. You are prompted to save a master password for the application.

Under Quick Links, click Add New Server to display the Register - Server window.

On the General tab, enter a name for your server, such as YBManaged.

On the Connection tab, fill in the connection parameters.

For YugabyteDB Managed clusters, on the SSL tab, set Root certificate to the cluster root certificate you downloaded.

Click Save. The new connection appears in the application.
Expand Databases to see a list of all available databases.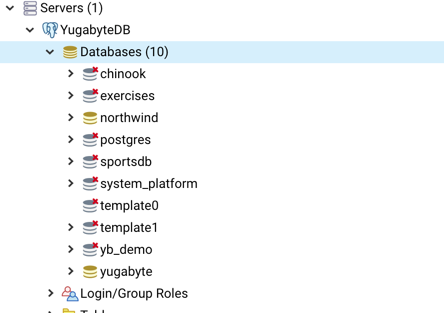 You can begin exploring YugabyteDB databases.
What's next
For details on using pgAdmin, click Help in the pgAdmin menu.
If you're looking for sample databases to explore YugabyteDB using pgAdmin, refer to Sample datasets.