YugabyteDB Anywhere allows you to create an admin account and manage your user profile.
Create admin account
You can create an admin account via http://<yugabytedbanywhere-host-ip>/register, replacing yugabytedbanywhere-host-ip with the IP address hosting your YugabyteDB Anywhere instance, as per the following example:
http://10.170.1.192/register

The following illustration shows the admin console: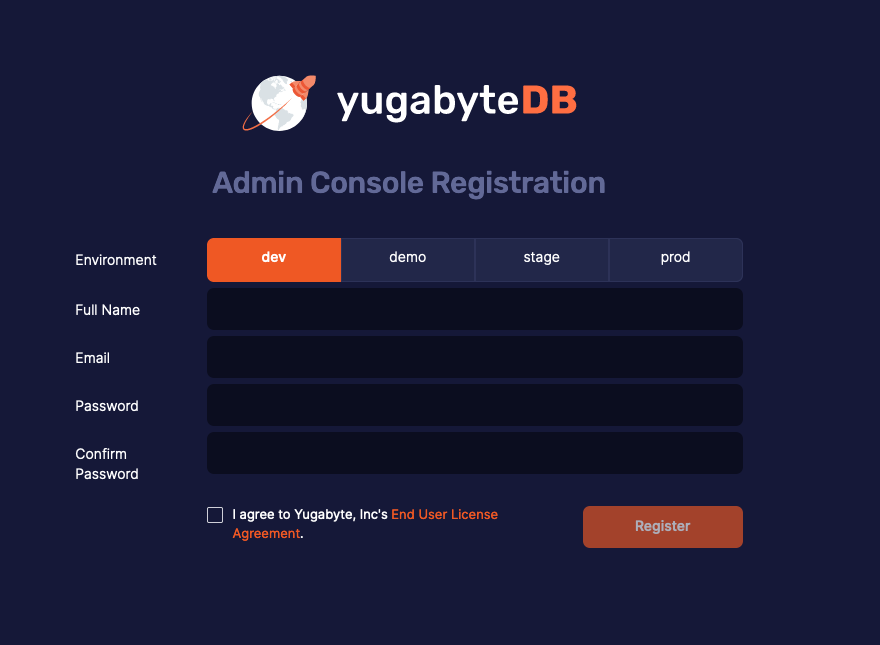 Note that by default YugabyteDB Anywhere runs as a single-tenant application.
You proceed with the account creation as follows:
Select the environment.
Enter your new user credentials.
Confirm the user agreement.
Click Register.
You are now redirected to the login page located at http://<yugabydbanywhere-host-ip>/login. This page allows you to log in to YugabyteDB Anywhere using your new credentials.
Change your account information
Once logged in, you may change the information related to your account, including the user name and password, by clicking the User icon at the top right, and then selecting User Profile.